PRIMA INSERTER (PI) is designed for all types of sheet metal stamping elements. It is compact in design, variable and very economical. It is characterized by simple operation and easy maintenance. It is characterized by simple operation and easy maintenance. It can be used in practically every operation that deals with sheet metal processing. The Prima Inserter pneumatic press has unique parameters that other presses in the same category do not have.
Unique features of the PRIMA INSERTER press
Fast PRIMA INSERTER is a fully pneumatic press with which we can achieve a higher speed (1 working cycle / 1 s) than with other machines of a similar category. These are either hydraulic or hydraulic-pneumatic and are therefore slower.
Affordability and low maintenance costs. Prima Inserter does not need oil change or complicated maintenance. Just keep it clean and lubricate regularly. In this category, this press has the lowest maintenance requirements. PI has the best value for money. Despite the exceptional parameters, it is the most cost-effective press in its category.
The highest quality, long-lasting components are used in the production of PI. The air pressure regulator, pneumatic cylinder, electric valves and other components are from reputable manufacturers: SMC Japan (market leader), sliding parts are from Bosch Rexroth, switches from Matshushita and Nikkai Japan.
High flexibility
Extension no. 1 makes it possible to press the connecting elements into C-shaped profiles
Extension no. 2 makes it possible to write fasteners into box parts.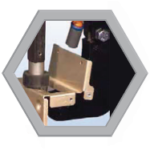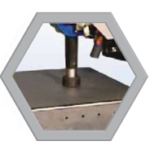 Control panel with memory
Descending (ascending) counter of pressed elements
Easy to read LED display
Adjustable pressing force and pressing time
Automatic fault diagnosis.
International standards
PI is manufactured according to international CE standards.
Also in accordance with Australian standard AS1219 -1994
The press passed the following test:
Electromagnetic compatibility
Electrical safety
Laser spectroscopy
Value for money
Security – The reduced gap between the punch and the anvil reduces the risk of injury to the operator.

The eccentric die allows us to press the connecting elements close to the corner or bend in the sheet metal stamping.
Power – Prima Inserter can develop pressing forces in the range from 2800 to 60,000 N depending on the air pressure used and the point of rotation of the arm (see table).
Pressing force

pivot point 1 (pin in hole 1)

Pressing force

pivot point 2 (pin in hole 2)

1 atm
0,280 t
1 atm
0,860 t
2 atm
0,570 t
2 atm
1,720 t
3 atm
0,860 t
3 atm
2,580 t
4 atm
1,150 t
4 atm
3,450 t
5 atm
1,440 t
5 atm
4,310 t
6 atm
1,790 t
6 atm
5,180 t
7 atm
2,010 t
7 atm
6,040 t