Capacitor welding machine C 66 (99) is a new generation welding unit, equipped with a clear display, stainless steel protective cover and modern electronics. The weight of the device, which is only 6.5 kg, speaks for itself, making it the unrivalled lightest unit on the market.
The device also stands out with the simple welding output adjustment, thanks to the display mentioned above, high reliability and unprecedented fast charging rate (capacity for up to 40 M3 bolts per minute).
Energy of 99,000 μF is available for welding. The charging voltage is fully adjustable between 50 and 200 volts. The graphic display, readable even in intense sunlight, shows easy-to-read information about the settings made and the current status of the device. Expressive icons and logically arranged menus offer easy-to-understand and easy-to-use assistance with three buttons, regardless of the language used by the operator.
Indicators of the number of welds and operating hours are standard equipment of the device. The integrated self-diagnostics function provides information on the safety and condition of the capacitor.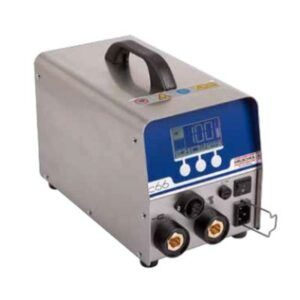 The equipment is delivered as a complete set
The set includes as standard:
P 05-K contact gun – the gun is designed to install copper and stainless steel bolts in sizes M3 to M8 (the C99 is compatible with size M10) and aluminium bolts up to size M6
Core cables 3 m long
M3 to M8 stud holder set
Assembly wrench
Manual